Back to maps – Forward to Understanding what "Live" means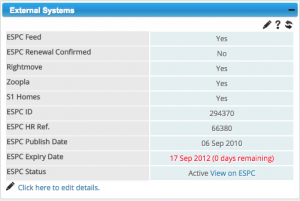 This panel controls whether a property is included in the Rightmove, On The Market, Zoopla, ESPC, S1, etc. feeds. By default all properties will be included in the feeds that have been set up by your BDP administrator, however if you wish to exclude a particular property from any one or all of the feeds, you can so so. Click the Edit icon and deactivate feeds as required.
If you have an internal reference, and this feature is active in your account, you can enter it in this widget.
Customers of ESPC in Scotland will see an ESPC logo at the top of this widget. Clicking this "pushes" the property to the ESPC member portal so that the invoice can be approved in preparation for launch. See the next section in "making a property live" for more details.