If your administrator has enabled Tasks in your account, you will see the Tasks widget on the dashboard. Open this widget (if it is closed) and you will see a list of all tasks currently set.
From here you can
View all tasks outstanding
View only the tasks assigned to you
Add a new task and allocated it to a BDP user
The default view is all tasks. Click the filter icon to show only those tasks assigned to you.

To carry out tasks that have been assigned to you:
Click the + sign next to the task, which opens the full list
Change the status of the item(s) that you are working on or have finished
Add any notes required to the input box to the right of the list item
Save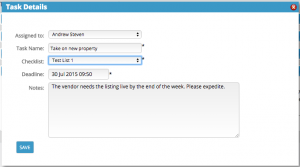 To edit the task deadline, description or notes, click the pencil icon next to the task.
To add a new task or set of tasks for yourself or a colleague:
Click the button to add a new task
Assign it as required
Name it
Choose the checklist to base it on
Assign a deadline
Add any notes about the task as required